Helen tells us about her family farm, its history and why she chose to go organic
Eastbrook and Lower Farm together cover some 1500 acres, in a long thin strip running from the top of the Marlborough Downs down to the heavy clay land of the Vale of the White Horse. We may be only half a mile wide, but it's five miles from top to bottom. With the ancient trail of the Ridgeway dissecting the farm, and lots of footpaths too, it's a great place to walk, ride and cycle across wonderful countryside, with heaps of wild flora and fauna, and all our fabulous livestock to admire too.
A Family Farm
Our family has farmed at Eastbrook for 67 years, courtesy of our landlords, the Church of England. My father, Bob Browning, took on the tenancy in 1950, and soon made a name for himself as a progressive young farmer, and one of the best shots and fishermen around. The farm I grew up on was in some ways not that different from today, with a mix of dairy cows, beef, sheep and arable crops….but Dad, like most farmers of his time, was pulling out hedges to enlarge fields, upgrading to ever bigger tractors (when he came here, it was mostly horses still) and benefiting from ever more potent chemicals to control weeds, disease and pests. With more modern crop varieties too, yields increased, but wildlife started to vanish.
When Dad gave me the opportunity to take over the running of the farm in 1986, I decided to experiment with organic farming, to see if we could grow good quality crops and animals, while making more space for nature too. And I had been shocked, while doing my degree in 'Agricultural Technology', to see how so called state of the art pig and poultry systems were treating farm animals. So alongside the enterprises that were already here, we started to keep both pigs and chickens, to show that it was feasible to give these animals a good life, and make great products from them!
I was also determined to connect with the people who might want to eat our food, rather than just sell into commodity markets. We started a butchers shop in the local village, and from there attempted to sell our produce in a whole host of ways. The trials and tribulations of all this are too much for this short introduction, but I'm always happy to tell you the warts and all stories as and when you can come to The Royal Oak
The farm today
There's a huge amount going on here. A dairy herd, lots of calves and beef cattle, 300 Romney ewes, 200 British Saddleback sows, 400 acres of cereal and pulse crops and a small flock of laying hens. We have also started experimenting with orchard crops, berries and agro-forestry at Lower Farm. So there's lots of food flowing from the farm, and I hope you will try some of it, whether our pork products in supermarkets, or via Riverford, Able and Cole and other great retailers, or a much bigger range of yummy things on the menus at The Royal Oak and the The Chop House
Helen Browning's
Organic Farm & Food
Helen Browning's
Royal Oak
Helen Browning's
Chop House
6 days ago
Helen with @agricology video link below - discussing the organic pig system.

https://t.co/0p4TN6yxpG https://t.co/S2pU2kXhWC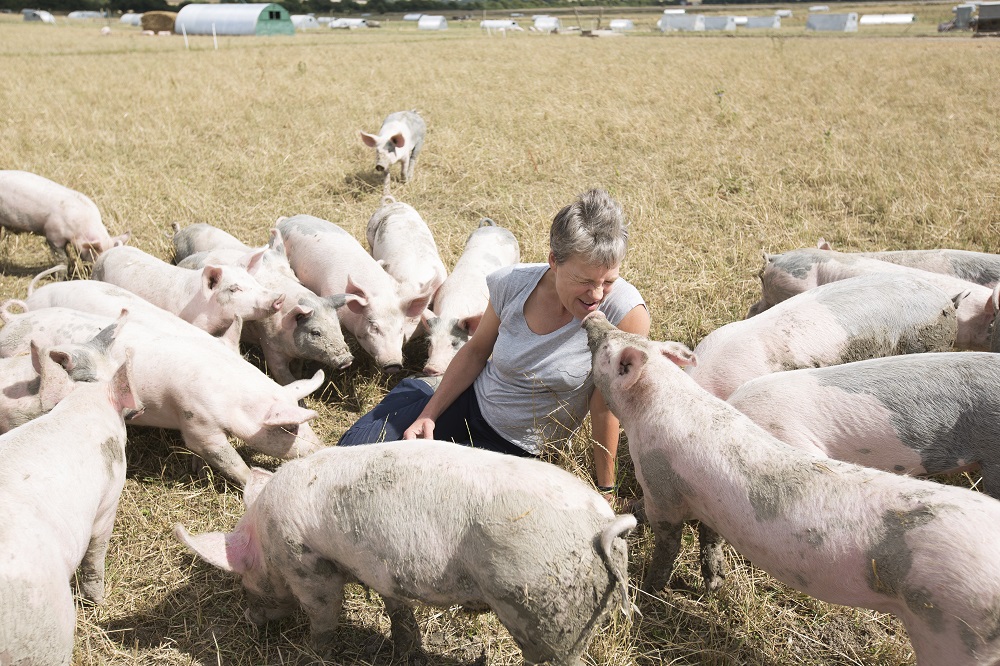 Helen Browning's Organic
3 hours ago
©Helen Browning's Organic 2019